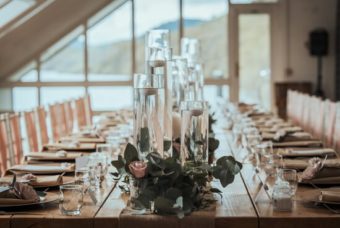 Some of our favourite Scottish Wedding Venues; Let us tell you why…
February 21st 2022
When it comes to planning for your wedding, one of the first (and most important) things to think about is where you see yourself saying 'I do'.
If you live in Scotland, then you can count yourself lucky enough to have an abundance of wedding venues which can cater to almost any couple and their requests. Whether you are looking for somewhere indoor or outdoor, classic, or extravagant, you really are spoilt for choice!
To help you with your planning and your big day preparation, we have chosen four of our favourite Scottish wedding venues that we think are unique and beautiful in their own way.
Perhaps you have never considered tying the knot beside a Scottish Loch or partying inside a converted barn, so keep reading to find out why you should!
Venacher Lochside
If you are looking for a unique venue that your guests will never stop mentioning, Venachar Lochside could be your perfect match!
Set on the bonnie banks of Loch Venachar, this romantic destination is only 5 minutes away from the busy tourist town of Callander and a 1-hour drive away from Glasgow.
This venue has hosted over 100 weddings all of which have received glowing 5-star reviews. Most couples commented on the delicious food, attentive service and how memorable their big day was made out to be and that they 'would have no hesitation in recommending' Venachar Lochside.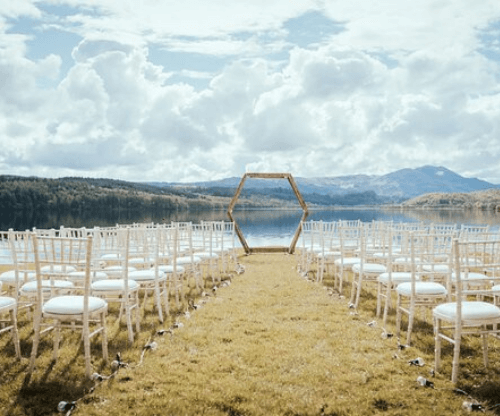 The venue is spread over three different spaces:
The Lawn and Deck
Situated right on the side of Loch Venachar, the Lawn and Deck immerses you in the beautiful panoramic views of The Trossachs and the water. This space is predominantly used for wedding ceremonies and with the already built-in views, the isle is ready and waiting for you!
Downstairs Function Room
The Downstairs Function Room boasts a crystal clear 180-degree view of the Loch Venacher. The space can be altered and decorated to your desired style, and with enough space for up to 100 guests, the Downstairs Function room can be used for both your ceremony and reception.
Upstairs Function Room
Better suited for wedding dinners, the Upstairs Function Room is a great area for hosting and dining. Just like the other two spaces, upstairs treats you and your guests to a view of the Loch. The quirky shape and layout of the room allows for all your guests to enjoy a more intimate setting, yet still leaves plenty of space for dancing!
Whether it's the award-winning venue, inhouse catering or the perfectly thought-out wedding packages available, Venacher Lochside is worth considering if you are looking for something different but unforgettable!
Website: https://www.venachar-lochside.com/weddings
Instagram: @venacharlochside
Rosebery Steading
Whether you are planning a big or small celebration, have ideas of a traditional or modern ceremony, Rosebery Steading is a venue worth considering as your wedding venue!
Located just south of Edinburgh, this 18th century barn conversion, which style has been described as 'rustic-luxe' has the perfect balance of both class and comfort.
Rosebery Steading offers guests two venues which both cater up to 100 people and can be decorated to your preferred taste.
The Threshing Barn
The Threshing Barn benefits from high ceilings and beautiful wooden flooring, this 'versatile entertaining' space is an ideal location for dancing, dining, or hosting your wedding dinner.
The Hayloft Barn
Slightly larger of the two venues the Hayloft Barn is connected to the Pumphouse Bar, Rosebery Steadings own inhouse taphouse. This spacious and light filled room is suited for any aspect of your wedding.
Rosebery Steading also has a private onsite chapel available for use and the venue can accommodate up to 28 people in a range of luxury bespoke apartments and cottages. The surrounding grounds and photogenic cobbled courtyard make for the perfect outdoor hosting area where guests can enjoy heated seating and the warmth from the firepit.
If this stunning venue hasn't already taken your fancy, there is a well thought out wedding package available which includes the venue use and accommodation amongst other desirable features and amenities.
Everything you could possibly need for your big day all in one place!
Website: https://roseberyvenues.co.uk/venue/rosebery-steading/weddings
Instagram: @roseberyvenues
Achnagairn Castle and Estate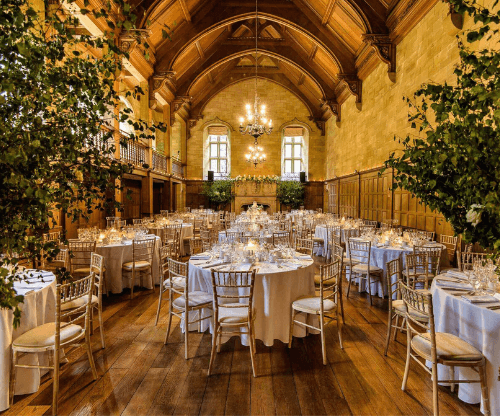 After being named as one of the best wedding venues in the UK by Harpers Bazaar, Achnagairn Estate may be exactly what you are looking for.
Situated between Inverness and Loch Ness, this award-winning venue and 30 acer estate could make for a wedding fit for royalty! With over 62 bedrooms scattered across the estate, your guests can completely immerse themselves in the 5-star experience.
You can host your wedding in the castles 'magical, historic, vaulted ballroom' which is available for a seated dinner of 200 or for 260 for drinks and dancing.
If you are thinking of having an outdoor ceremony and reception, the elegant gardens make for a standout location. From grand architecture to an intricate maze, the photo opportunities are endless!
Achnagairn's ethos is 'Escape the Ordinary'. This is very fitting as they pride themselves on their ability to deliver 'fairytale' weddings, which has earned them very complimentary reviews from previous wedding parties.
The inhouse catering is tailored completely to your own taste and delivered to an exceptionally high standard. The estates team members are known to go out of their way to make your day that little bit more special!
To help you on your decision, there is a walk-through video made by My Scotland Wedding available to watch on their website. This allows you to view the ballroom, accommodation and the grounds and lets you envisage yourself and your guests on your wedding day!
Website: https://www.perfect-manors.com/achnagairn-estate/weddings/
Instagram: @achnagairnestate
Kinross House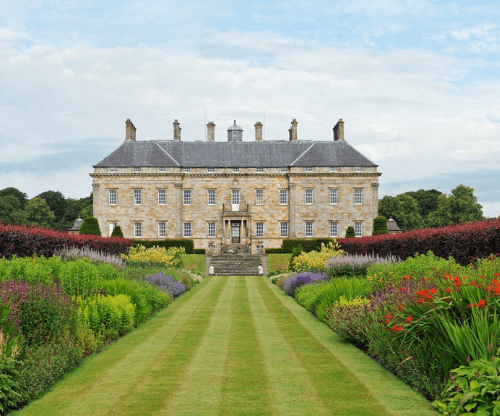 Kinross House is arguably one of the most luxurious wedding venues in Scotland. Its impressive 17th century design and pristine country estate are the definition of elegance!
This venue is within a 40-minute drive of Edinburgh City Centre and the historic coastal town of St Andrews. Designed by Sir William Bruce, his inspiration for the house was entertainment, which can be felt throughout every design aspect. The variety of function rooms and the 24 bedrooms available makes Kinross House suitable for any size of wedding.
Alongside the house, guests can also choose to celebrate in the on-site marquee, fit for up to 300 guests!  This marquee also comes equipped with electricity, running water and its own Wi-Fi router.
As well as being spoilt for choice with venues for hosting your big day, the house also has a well renowned spa available to its guests. At the Coach House Day Spa, you can enjoy a range of different treatments and use the hydrotherapy pool and sauna, perfect for pre-wedding preparations or some post-party relaxation.
Did we mention that this wedding venue has its own private island and helipad?
To make your day even more special, Kinross House offers guests tailored wedding packages to ensure that your experience is nothing short of 5 stars.
Previous guests have described Kinross House as an 'experience of a lifetime', so there is no doubt that you will be treated like royalty if you decide to have your wedding here.
Website: https://www.kinrosshouse.com/events
Instagram: @kinrosshouse
From private castles near Inverness to rustic steadings outside of Edinburgh, these four Scottish wedding venues offer something different and suitable for any couple! Although no two are the same, we recommend these venues due to their ability to make every wedding unforgettable and truly spectacular!
We hope that this has helped to inspire you and that wherever you decide on celebrating, your special day is exactly how you imagined and hoped it would be.
We hope to see you there!
Event Staff Scotland