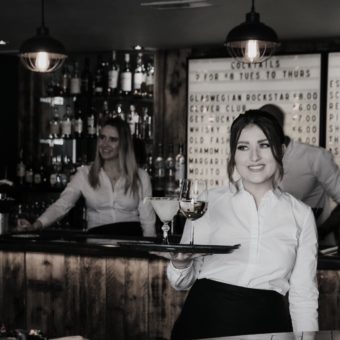 How To Prepare For Your Hospitality Shift
September 26th 2022
At Event Staff Scotland, we work with a diverse range of clients, from well-known hotel chains and smaller local businesses seeking additional staffing, to clients seeking teams of professional hospitality staff for garden parties or weddings!
While no two jobs are ever the same for us, the preparation ahead of most shifts in hospitality is. To us, it's important that our staff feel assured and confident going into any job, so we pulled together this handy guide with our top tips to prepare for any hospitality shift!
Read Job Notes Ahead Of Arrival
Our LiveForce app contains all of the information you need ahead of attending any job including shift times, pay, location details, any uniform requirements, and travel arrangements. So you can feel confident and prepared ahead of any shift, this takes any stress away and ensures you're up to speed with any event details prior to arriving!
Arrive Promptly and Check-In with management
It's important to set off with enough time in order to arrive promptly for your shift, this helps ensure you have some time ahead of starting a job to ensure you're fully equipped and ready to go! Our management team will check in with all staff ahead of shifts to ensure your safe arrival and attendance. Our team are friendly and easy to contact should you have any queries at all whilst on a job.
Dress Appropriately
With any job and especially working in hospitality, it's important to ensure you come to work in a tidy and presentable manner. Usually uniform for hospitality will be a clean and ironed white shirt, black trousers, and smart black shoes! Any other uniform requirements will be specified through LiveForce and may be provided at the job where necessary.
Prep Nails And Tie Back Long Hair
It goes without saying but when working in the food and drink industry, it's essential to ensure long hair is tied back neatly and fingernails are short, clean, and free from any nail polish! Jewellery such as rings and bracelets should not be worn on shifts. This is in line with regulations set by the Food Standards Agency and something we as a business must adhere to!
Relax And Be Confident!
We're proud to have such an amazing team of staff at Event Staff Scotland that make jobs enjoyable and hassle-free. All staff are briefed ahead of shifts so they can confidently hit the ground running, and our friendly and experienced management team are always easy to contact should you have any queries!
If you're not already part of the team, head to the "Jobs" section of our website to sign up to our live staffing platform to gain access to upcoming jobs in your area!
It takes just a few minutes to sign up, and the sooner your application is submitted the sooner we can get you booked onto jobs and earning money doing what you love!
Event Staff Scotland 🏴󠁧󠁢󠁳󠁣󠁴󠁿