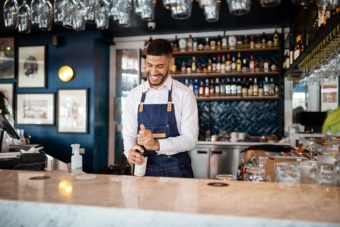 How Many Waiting Staff & Bar Staff will I need for my celebratory / hospitality event?
May 31st 2022
Planning a wedding or celebratory event is supposed to be a fun and exciting process. An event you look forward to sharing with friends and family and making some wonderful memories together.
However, it goes without saying that it can be quite overwhelming with so many different 'moving parts' to consider.
Within this blog we focus on the staffing element of your big day to help give you an idea of the types of service staff you'll need and most importantly the number of staff you'll require to ensure things run just the way you envisage!
But before we get there, we need to take a look at the kind of wedding or event you want to have.
Will it be a small and intimate affair for those closest to you, or do you come from the sort of family who knows everyone within a 30 mile radius, and before you know it, your guest list is in the hundreds?
Below we've put together a little checklist of questions to ask yourself:
What kind of reception are you planning to hold? Formal, intimate, interactive, relaxed?
What do you want it to 'feel' like? Think back to an experience you've had somewhere else and then break down the elements to help you establish exactly what it was about that event that you loved so you know what to focus on when planning your own.
Will you be inviting a lot of people? If so will they have different needs and will you need to plan different things for different groups?
What kind of meal will you be having? Are you thinking of a sit-down meal, a buffet, a serve yourself affair, food carts, BBQ Pits, a 5 course extravaganza?
Will there be canapés and /or a champagne reception?
Will you be having a bar? If so, how big is the drinks offering to be? Will the guests be expected to pay for their drinks or will you be covering the cost?
Will you have a mix of guests so for example will you have children, elderly people with extra needs, 'VIP's' who you wish to have extra attention dedicated towards?
What is the most important thing for you and your guests to take away from the reception?
Who is dealing with the clean up? Do you need staff to be responsible for this and if so for how long? Do you have a team coming in the morning to deal with it or would you like to go to bed knowing the hard work has been done?
Once you've put together your answers, you can then start to consider the food and beverage service elements involved in making it happen and start to get a plan in place for the type of service you'd like to complement the day.
---

Waiting staff requirement guidance
As a general rule, for a sit down 3 course meal we'd recommend 1 waiter per 10 guests to give as much synergy to the service as possible.
The waiters would be responsible for the service and clearance of the food and plates, the pouring of the wine / water, assisting the kitchen with preparing to serve each course etc.
They would also be on hand to assist with champagne pouring pre speeches if that was something you wanted too.
If you plan to have wine and water throughout the meal with no specific bar drinks available throughout the dinner then these waiters can certainly handle the task without the support of a separate bar team.
However, if you wish to have the bar open before or during the wedding meal service and you'd like drinks orders to be taken throughout the meal service then you would need to consider separate staff to cover this.
If you're going for a more casual food offering such as buffet, BBQ, shared plates etc then you could increase the staff to guest ratio to 1 per 20 guests. This is because these types of offerings tend to be more relaxed, at a slower / less rigid pace than a sit down meal with a kitchen team dictating the timings of courses.
This again is a good point to have a think about exactly how you visualise the food and beverage service offering being on the day? Are you happy with having different elements offered at different points throughout the day or do you want all elements to be flowing and available at all points?
---

Bar staff requirement guidance
With regards to numbers for bar staff, these stretch further than with food service but also have variables depending on what types of drinks you want to serve, how much variety you wish to have, how the bar will be set up etc for example is there a dishwasher or will the team be washing the glassware by hand?
If you wish to keep the bar service at basics such as soft drinks, wine, bottled beer, you could be comfortable with 1 member of bar staff for every 40-50 people.
However, if you wish to have a more comprehensive drinks offering (cocktails, more variety of alcoholic beverages, teas and coffees) then we'd recommend closer to 1 for every 30 people.
For any event or occasion that you are planning, it is important to have an idea of how many staff you require to ensure that everything runs smoothly.
Hopefully this blog has given you some ideas about your staffing numbers and will aid you in planning your event!
If you have any queries regarding ESS staffing numbers, please feel free to message us with questions or for advice.
We are happy to help!