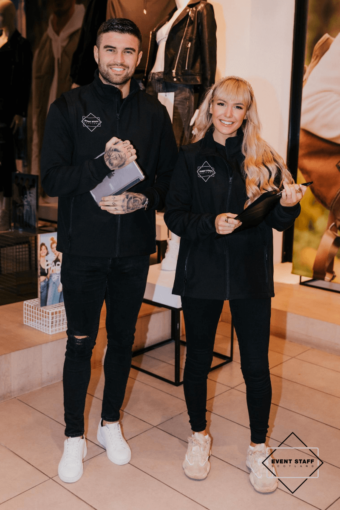 5 Ways To Market a New Business
July 29th 2020
So, you are the new business in town, you're excited, motivated, and ready to blow people away with your amazing products and services. Fantastic!
There is just one little problem; nobody knows your name.
You are so eager to be talking to potential customers, yet none of them have even heard of you, let alone want to do business with you. There is no presence, no trust. You have a super fancy website and have set up some social media, but let's face it, you need the custom to keep it all going and you need it quickly.
Don't worry! We at Event Staff Scotland have you covered, and by reading this guide, you will be promoting like mad in no time!
Social Media Marketing
Everything and everyone is online these days, and as a business, that is where you need to be too! We are not talking about gossiping on Facebook and sending SnapChats to friends either. We are talking about serious business social media management. Your target customers are on social media, therefore that's where you can find them! Platforms such as Facebook, Twitter, and Instagram all have business page functionality and are trailblazers for business social media marketing.
Figure out the platforms that suit you and your business best and get posting! Blogging, email newsletters, and other forms of digital marketing can all tie in with this and really help the promotion of your business even more.
Brand Ambassadors
You have heard the term but what do these people actually do? Well, they represent your business and 'spread the word', so to speak. They actively share and spread awareness of your business and brand. They can be formal or informal, paid, or unpaid, part of the business or consumer. Having brand ambassadors can really bump up the credibility and overall recognition of your business if put to good use.
Get in touch if you would like to find out more about our Brand Ambassador team.
Business or Product Launch
This type of event is one where you would almost certainly use brand ambassadors. It's typically an event where you release your product or service to your customers.
Before organising your launch, however, you need to make sure you know exactly who you're targeting. Know your product or service inside out but don't try to sell to your audience just yet, just build up a relationship with them first. Then, invite them to the big launch where you can let them try out the product if possible, learn about it from tried and tested reviews, and from people there, for example, your brand ambassadors.
These will be like gold to your business at your launch, as they can provide real accounts of your product and this will almost certainly get sales going.
Pop Up Events
These are great for immersive type products. They are temporary, or apparently 'unplanned or secret' events, designed to give your customers the full experience of your product on a smaller scale. Say, for example, an immersive dining experience, set back in the 1920s. It would be an entirely exclusive event, with guests invited in advance. The experience would not be accessible to the general public and guests would often have to purchase their tickets. Because of the secretive nature of it all, a sense of excitement and intrigue builds up for the guests which are exactly the desired result. Naturally, the build-up continues into the event, where your guests will dine, drink, and be entertained in an authentic Gatsby or Speakeasy setting. Watch the reviews fly in afterwards!
Of course, the pop up doesn't have to be quite as dramatic as that. It could be merely a form of selling a product, such as clothing. However, because the event is temporary, it creates a sense of urgency, therefore people will be automatically drawn in, maybe to get a bargain, maybe to purchase something completely unique. Either way, the interest is there.
Flyering
For a more public event or product, leaflet distribution can be highly effective. Whether you are promoting a launch or an event with the flyers, it's always a good idea to make sure your audience knows what is in it for them if they take the flyer and use it as intended.
Offering free products and discounts is one of the best ways of doing this. Having brand ambassadors as part of your promotional team in this situation is great as they should be fully up to speed on what you are offering and will be able to pass on that information to your target audience.
For more information on how our flyering team can help your business.
These are only a few ways you can effectively market your new business, but they can be extremely successful.
If you would like any information on any of these ways or how else you can promote your new business, feel free to contact us. We will be more than happy to steer you to success!