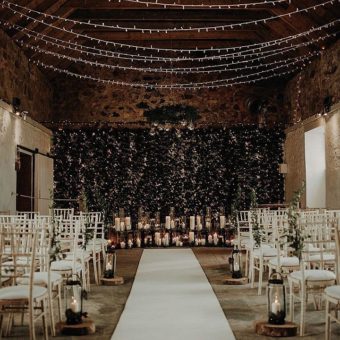 Winter Weddings: Our Top Tips
October 21st 2022
The winter months are becoming an increasingly popular time of year for couples to tie the knot! Although the evenings may be darker, the sparkles are brighter, the mood is more festive, and the entire day is filled with romance. Not to mention, many dates and venues are considerably more affordable!
Whether you're looking to host a winter wedding or simply interested in the idea, our blog post covers everything from choosing the right venue to food inspiration and ideas to wow your guests. These top tips are sure to help to make your special day, that little bit extra special…
Choosing Your Venue:
Often couples may only visit their wedding location during the day, especially if you're doing your venue search during the spring and summer months. If you want your location to feel warm and welcoming, it's a good idea to try to and visit it on a winter evening, as the majority of your reception will take place after dark. Many beautiful venues come to life at night, whilst some that are spectacular during the summer season may lose some of their allure. This can be one of the most expensive elements of your day, so it's worth taking your time choosing to get it just right!
It's also important to pick a venue that really reflects your chosen theme. The venue itself can often provide a large part of the decor so you just need to incorporate additional elements yourself to make it your own. This ties into our next topic, decorations!
Decorations:
Winter Weddings are the perfect time of year to embrace themes like an all-white winter wonderland or even a winter forest feel by embracing colour schemes like forest green with gold touches and lots of fairy lights. If your special day is in December, your decorations could even take inspiration from Christmas with trees, tinsel, and baubles carefully incorporated into the decor! Alternatively, you can strip it back with a more classic and romantic theme, embracing beautiful seasonal foliage and candles. Remember, your decor can be as extravagant or as minimal as you wish, no matter the season!
It's also always worth checking with your venue when their Christmas decorations will be up, as whilst it may work well for those embracing a festive wedding you may prefer not to have lots of tinsel and holly in your photos if you say your vows in November!
Photographs:
The photographs taken are one of the ways you'll be able to look back on your wedding! When looking for a good photographer for your winter wedding it's worth requesting to see some of their previous work on duller days, evenings, and even in bad weather.
Whilst winter mornings and midday can give dreamy lighting for photographs, the weather is not always predictable, especially in Scotland! So it's worth ensuring you choose a photographer you have absolute confidence in, with plenty of experience to ensure you have plenty of beautiful photos to remember your day. In any season, it's also worth considering hiring a videographer to capture special moments and memories if this is something your budget will allow for. Many videographers can film everything from the small moments in the morning to your first dance, so you have something completely unique to look back on your special day. We guarantee there will be so many bits you didn't see on the day and it will be a delight to watch!
Food:
Whether you're opting for a traditional menu or a more modern dining approach, the food served is likely to differ a little to those that might be staples for a spring or summer wedding. It's your special day so it's important that you choose dishes you love to ensure you enjoy your wedding meal. If you're seeking inspiration, starters like a small bowl of stew with dumplings, a classic soup, or even baked camembert with cranberry-orange compote are perfect in the cooler months.
For mains, hearty dishes like slow-braised beef served with seasonal root vegetables and puff pastry shard or slow-roasted meats like locally sourced pork belly or venison are great options for main dishes. Finally, for dessert you could choose something decadent like a creme brulee served alongside winter berries. Alternatively, opt for a warm and filling option like sticky toffee pudding served with vanilla bean custard.
Those Little Extras:
There are endless additions big and small, you can make to your wedding to cater to your chosen theme or create some extra excitement for your guests. For example, providing hampers with blankets upon entrance to your ceremony will go down well with your guests who may be sitting for a while, and begin to feel chilly! It is a particularly nice touch if you have elderly guests in attendance. Another option to embrace your winter wedding is with festive-themed favours. These might be as simple as adding some truffles or Scottish tablet to as elaborate as offering miniature customised bottles or baubles to your guests!
Features such as a small team of staff offering mulled wine upon arrival can be a great way to welcome your guests to the reception. Alternatively, you could hire professional mixologists to serve you some unique winter-themed cocktails throughout the evening!
Now that you've heard our top tips for planning your Winter Wedding it's time to get started! It's no secret one of the most important elements of a successful event is the staff. Whether you're looking for a team of experienced servers to take care of all the hospitality elements of your day, some experienced mixologists to wow your reception guests, or simply a reliable team to take care of important duties like setting up your venue – we've got you covered!
Our team are experienced, reliable, friendly (and so on board with Winter Weddings!!!)
To find out more, simply submit an enquiry through our website or send us an email at enquiry@eventstaffscotland.co.uk